5E Model
The 5E Experience Design Model
What is the 5E Model?
The 5E Model was first invented in 1994 by Larry Keeley. Since then, the model has been further developed and given an overall purpose: the Meaningful Outcomes by Kaospilot based upon extensive use. 
The 5E model is an Experience Design model that can be used to design meaningful services, events, or learning experiences. It will help you design and orchestrate experiences that deliver meaningful outcomes.In essence, it is a step-by-step guide to designing meaningful experiences, such as services, events, or learning experiences. 
In short, the 5E Model is simply a framework for building holistic and meaningful experiences. It is not a template you fill, but a structure you decide based on the context of the experience you are designing. 
The Experience design model is a a permanent element in our three-day Experience Design course.
What is the 5E Model used for?
As an Experience Design Model, the 5E Model is a versatile tool that can help professionals  communicate an experience design concept. The model is useful to help align a team, access collective creativity and to help distribute leadership that enables collaboration. Thus, the model is used to plan and execute experiences that engage your team, and ultimately your audience, customer and end-user.
The model is an effective tool to help navigate through complexity with purpose and clarity, by focusing on meaningful outcomes throughout all the design phases. 
How does the 5E Model work?
When using the 5E Model, the approach of designing an experience is basically turned upside down. With the 5E Model, the first step is to define the outcome you want to create. How will the experience be meaningful to your users? Why will they love it? What will they feel? Therefore, with the 5E Model, the end-result will be in the back of your mind from the very beginning. 
From here, the model consists of 5 phases – the "E's": Excitement, Entry, Engagement, Exit and Extension. 
The beauty and the brilliance of the model is the constant focus on creating meaningful outcomes from the beginning and throughout the entire process. The meaningful outcomes come to life through each of the 5 E's. It is an integrative model that can add coherence, elegance and excitement to your service or experience.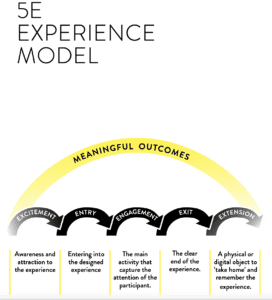 Meaningful outcomes matter
To define the Meaningful Outcomes of your experience is to define the source of the positive impact you aim to create. Global society needs to transform in a more sustainable manner. Focusing on creating meaningful outcomes enables not only you and your team, but also your customers, to take actions that support sustainable development and a more sustainable world.