Meet Daniel Aneto
Who is this?
Hi. I'm Daniel. Some call me by my middle name Aneto, but few people know that I'm born and raised as an Olesen.
Shout out to my mom for standing up against patriarchy in Nigeria, leading her to meet my Danish dad many years later on Fyn.
With that as my foundation in life I grew up in small suburb to Horsens with a two year older sister that has grown to become my roommate and business partner, too.
Whacha doing?
I work in arts and culture, both as a freelancer with three independent clients, and as the daily manager at Frontløberne.
The last year I've been a part of developing KLUB22, a new cultural platform, that represents minorities and underrepresented music genres, which can be found on NorthSide Festival 2023.
On the side I explore music as a DJ with the influence of my ancestral roots, American culture and Nordic upbringing.
I could keep going for a while, but that's just how my brain works. Invite my for a coffee to unfold even more, or if you feel like you have something you need to get off your chest.
Reppin' team 25?
I was a part of Team 25, and I graduated the summer of '21.
What have you been doing since you graduated as a Kaospilot?
In short: I have been trying to build my own business
The add on: I had a job as a handicap assistant which (for some reason) I chose to quit, because I should get a "real job". I quickly realised it was a real fucking job and that I should keep doing that, while building my own business. Somehow I managed to get my job back while I started to accept more and more freelance gigs.
I've been a driver at Fashion Week in CPH (shout out to Helen from team 25)
I worked with content creation for a start-up working with a trivia soccer game (shout out Evrim from team 25)
I worked with music management.
I joined Kulbroen (a cultural organisation in Aarhus) as a project manager where I started working on KLUB22.
I worked with Frontløberne.
I have DJ'ed a whole lot (shout out to Urban Connection)
I have travelled to the U.S and A (shout out my life-partner Zina) I have…. Honestly, probably done too much. At least 2022 was tough on me, and at times quite lonely. One thing I havn't really done, is checking in with my fellow Kaospilots. I hope you're all doing exactly what you're supposed to be doing right now <3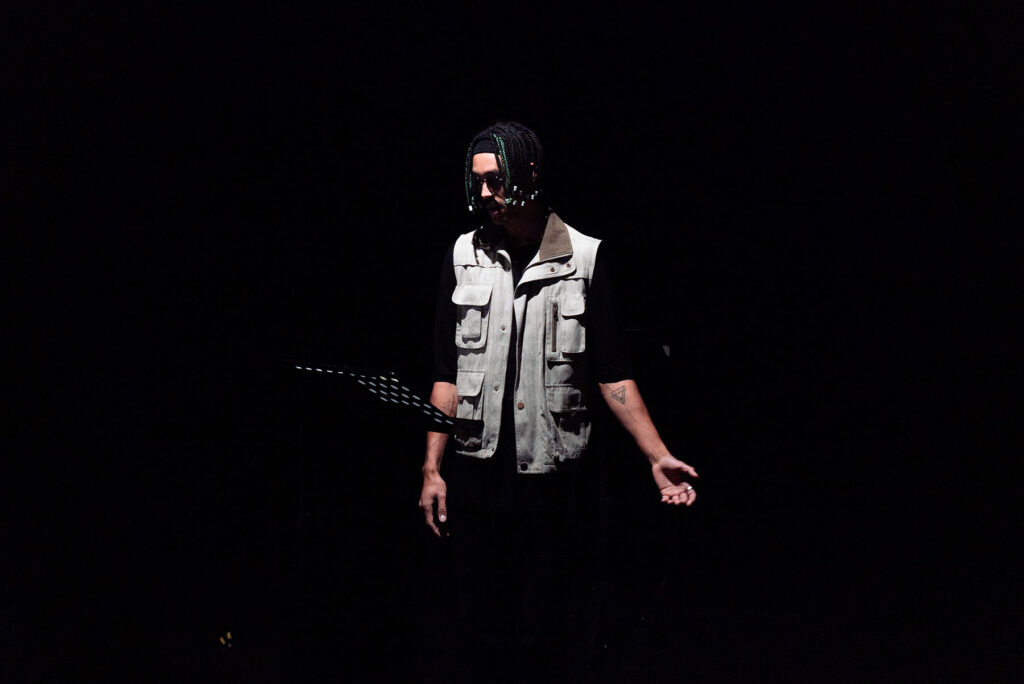 Photo by Christian Poulsen (Scratch Night, Teater Katapult)
What is important for you in your job?
Freedom to think, create and expand ideas with a great level of expectation of execution. I love a team that dares and is all about showing rather than saying.
When I prioritise new jobs I evaluate the job based on three criteria:
Does it fit my vision in life? (Feel free to invite me for a vision talk if you want to know more)
Is it fun?
Will I get paid?
For me to accept a job I need to be able to say yes to 2/3 of those criteria. And yes, this means I definitely work for free too… But I know my value.
What major learnings would you point out from your experience that have shaped you as a leader?
Often I havn't been leading other people but instead I've been following myself and a vision that I had. This has made me loose perspective on the bigger picture and made me feel more distant from the people around me.
The lack of patience have made me pursue things alone that should and could have been with a team.
What is your biggest source for inspiration right now?
Honestly, just music, and all the people I surround myself with in the underground DJ and music scene in Aarhus.
Adding to this I get extremely inspired by watching how other communities around the world are working with arts and culture in collectives, groups, families. People that dare to dream big, think globally and act locally.
What would be an example of a learning or an experience from your time at Kaospilot that has been important to you?
One time in a theatre workshop I was "forced" to act out in front of the whole team and put my voice in a high pitch. I'm not going to explain the context here, but I struggled quite a lot. I ended up the workshop screaming. Like really screaming. I felt extremely relieved and realised how much I had started to build up a character that needed to be deconstructed.
What is a piece of advice that you would like to give future Kaospilot graduates?
It's fine that you're figuring stuff out, but it's a really good investment to spend a solid amount of hours reflecting on your vision in life and why you choose this path.