Become
Designing for Transformation
Program Overview
To remain relevant and competitive in a context of deep change, organizations cannot simply offer good products, services or experiences, but must be able to deliver profound, meaningful and transformational value, to reinvent themselves to focus on creating positive impact, engagement and authentic human connection.
We want to help you to make this transformation happen in your own world, in your own organization, your own communities, your own processes, in the experiences you create, in the business you launch.
That's why we are so excited to share the next evolution of Become, Kaospilot's signature Design for Transformation program.
You asked for it. We built it. We are bringing our Design for Transformation methodology to the next level through a new highly personalized, self paced and expert-guided training offer. A program for the next generation of designers, consultants, strategists, activists, creatives, facilitators and everyone who wants to drive meaningful impact for people, organizations, society and the world.
This new Become is designed to allow you to accelerate and amplify change in a practical and actionable way, helping you to save years of trial and error off your work thanks to the combination of our proven methodology and one-to-one mentorship. Become is designed so you will end with a defined impact strategy ready to help you and your organisation. 

Content
This is an 8-week self paced training run entirely online.
We gear everything towards building your capacity in your daily work and focus on helping you conceive the strategy for a transformation you want to realize.
6 method booklets To guide you through the journey. In each booklet you get an introduction to the topic of the week, an assignment with design tools, further readings and other references.
Template for presenting your transformation strategy You will get a slides template, that you will fill out throughout the program. This will enable you to implement your learning and communicate the strategies you have developed throughout the program to accelerate change.
3 Personal mentoring sessions You will after each module (Module 1: 🗣Reframe, Module 2: ❤️ Repurpose and Module 3: ✋Redesign) have the chance of sharing your work, co-designing and learning directly with experts. These one-to-one sessions will expand your thinking and give you the personal touch a video will not. The program is kicked-off with a shared call where you get introduced to the structure of the mentoring sessions, Where we will personalize the references, pacing, mentors we bring in for you.
Peer Learning We have found that one important way of transferring concepts into immediate real-world applications is to involve participants in a peer group. We curate these after having spoken with each one of the participants in the group. We only accept max 15 people each round, and those that get in are exceptional leaders and drivers of change.
The program is designed so you can do your daily job. You can expect 2-4 hours of preparation each week.
Is This For Me?
Is This for Me? 
This program is for designers, leaders, facilitators, entrepreneurs, managers, artists, innovators, doers and makers. Our alumni are from organizations like adidas, Unity Technology, Green Peace, Google, IKEA, IDEO, Lego, Skype, Mind Valley, Government of Columbia, different B Corps and many more.  
Our typical participants have at least 5 years of work experience and come from the following industries:
Entrepreneurs
Business Leaders
Innovation Consultants
Designers and design strategists
Learning and development professionals
Social Activists working for Social Enterprises and Nonprofits
Facilitators
Event hosts
And for everyone longing to have a structured approach to develop themselves in order to effectively change their organizations. It's for those who want to develop their strategic thinking, and add the most relevant methods, mindsets and frameworks to their strategic and design toolbox.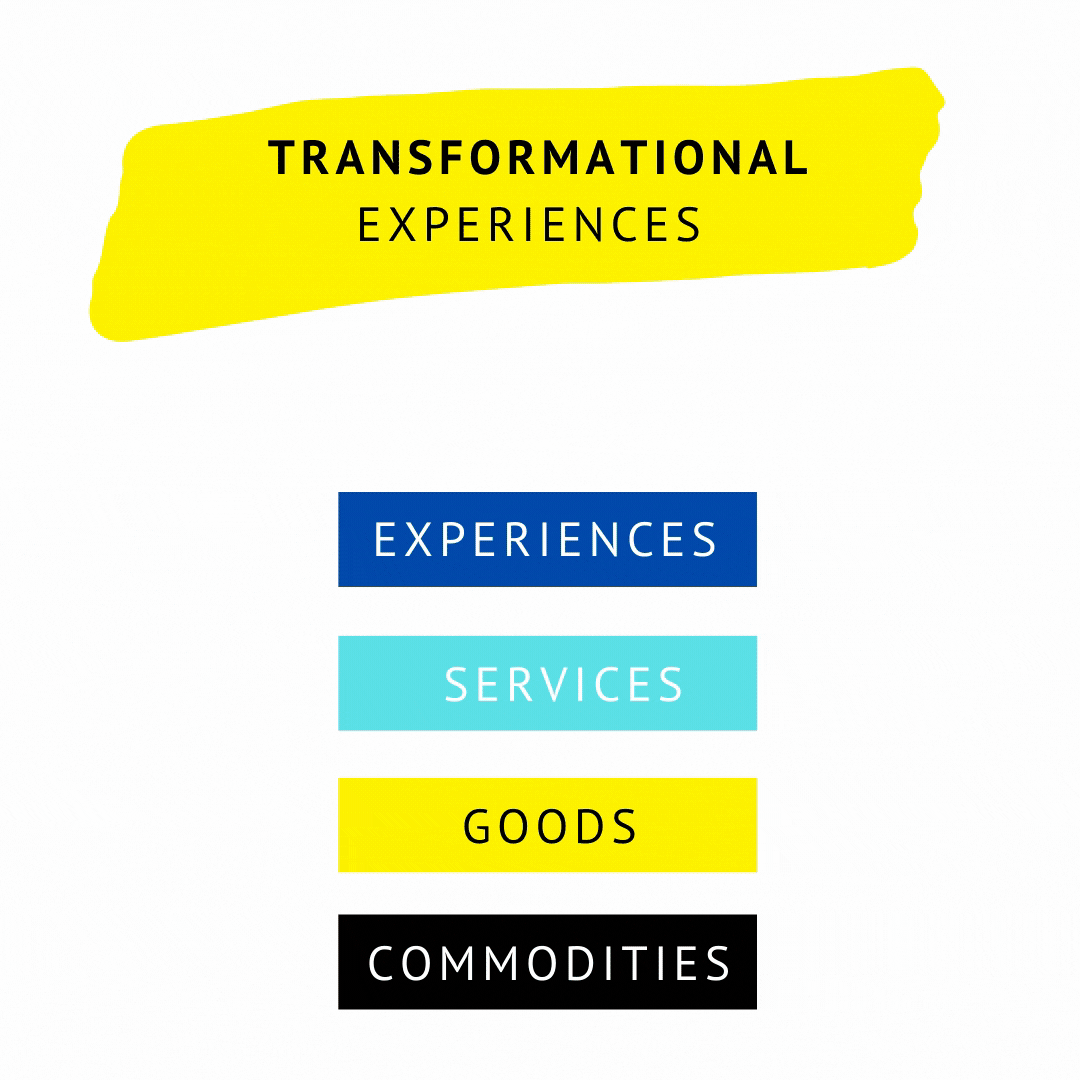 Learning Outcomes
Tomorrow's consumers/citizens will not only expect meaningful experiences on digital platforms but also experiences that add layered value and transform – creating engagement and human connection on a much deeper level. You'll learn the language and frameworks that enable you to drive connection and transformation. 
Purpose Driven Strategies

– Connect your work more directly to what you believe in. Create more effective results by using purpose as a guiding principle, and learn how to align profitability and positive social impact to transform the paradigm of business.

 

Holistic Approach

– Think systematically and develop yourself in a holistic way. Expand what you have access to experience, think and do, to better confront the multilayered complexity of our current challenges.

 

Act Fast and Learn Fast

– Transformation is a never ending on-going process. Learn how to take courageous action and how to assess whether the change you are provoking aligns with your purpose and goals.

 

Transformational Design

– Explore Design as the key mindset and tool for personal growth and systemic change. You will be learning together with an amazing global community of like-minded people, who are at the forefront of building the practice and methods for designing transformational experiences.

 

Become a driver of Transformation.

Learn how to create and lead processes that create ripples of transformation around you and your organization.

 
Testimonials
"Become program was transformational for me. Every session had many aha moments in terms of insights as well as actions. It helped me to Clarify my personal and professional purpose and create a prototype to start acting immediately."  

– Raja Chidambaram, Consultant and Enabler-Transformation, India 

 

"Become is the proof that an online course is NOT second to a physical course. As participants we laughed, we developed ideas together, we trusted each other, we shared personal stories and we got truly connected. And then we got what an intense physical course can't give you – time to reflect between the sessions and readable and savable post-its! I can't recommend it enough…"
– Ditte Amskov, Senior Innovation Advisor, Oxfam IBIS
"BECOME has exceeded my expectations. The course is ideal for any designers working on a difficult product launch, personal or professional project. The programme runs over three demanding weeks although it can be combined with your daily job. The constant synergies between the 6 mini design sprints and your own work will prove invaluable. Not only will you have a cohort of very talented link-mind people to share this journey with but also a group industry leaders who will be accompanying you on the journey. I am proud to be a member of the BECOME Fellowship."
– Santiago Brea, Business Consultant
"Become is pure inspiration but also a very practical course. Guided from the heart, Become has really make a difference in me and I feel that I have the tools to create whatever I put my mind to."
– Sonia García, Visual Artist and Designer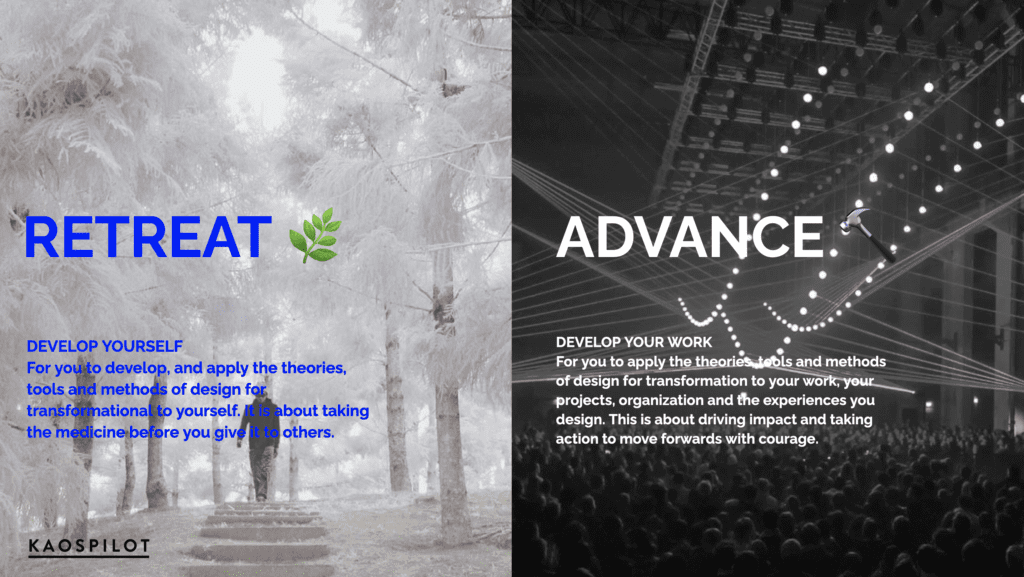 Approach: The Rhythm of Transformation
The Rhythm of Transformation: Retreat, Advance, Retreat, Advance… 
Throughout this training you will alternate between reflective Retreats 🌿  and action packed Advances 🔨. You will step back, to gain perspective so that you can step forwards with confidence and power.
Retreat 🌿  comes from Old French 'retreat' meaning "a step backward… a military signal for retiring from action or exercise."
Advance 🔨 comes from Old French 'avancier' meaning: "move forward, go forward, set forward".
Is faster always better? A case for a more human way of working. 
We have developed this basic process of retreating and advancing as an anecdote to a professional culture which seems to only value Advancing and creating external results. We want to invite you practice a more human way of approaching your work, in whatever way that works for you through the overall frames we will provide you.

The unique Kaospilot methodology and pedagogical approach is grounded in action-reflection theory. You will be applying theory, which you will be testing, and you will also be learning through practical exercises. Our approach enables you to acquire different mindsets for you to apply in your work, including experimentation, exploration, and taking initiative. 
BECOME Team
Become was born out of the hard work from Aga Szуstek, Andy Sontag, Alberto Barreiro and a luminous team of global experience designers, organizational development experts, and coaches.
Co-facilitator
Alberto Barreiro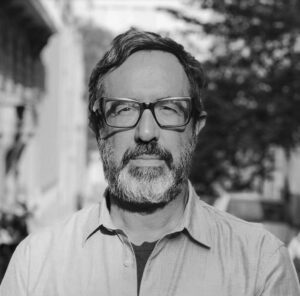 Alberto spent the last 20 years exploring the relationship of people with digital media as an artist, designer, entrepreneur, business consultant, and media executive, working for global digital media players but also starting new businesses in the fields of media and experience design. Alberto is always driven by the aim of trying to make the world slightly more beautiful, useful and meaningful than we found it.

Practical Information
Course duration: 2 months

Next program starting : 
February 1. – March 28. 2024
Program fixed calls:
• Feb. 1. Kick-Off Call – 14:00 – 18:00 CET
• Feb. 15. RePurpose Call – 14:00 – 15:30 CET
• Feb. 29. ReFrame Call – 14:00 – 15:30 CET
• Mar. 14.  ReDesign Call – 14:00 – 15:30 CET
• Mar. 28. Landing Call – 14:00 – 16:00 CET

Spaces Limited 
We are only taking max 15 participants each 2 month cycle of this program.
About Andy Sontag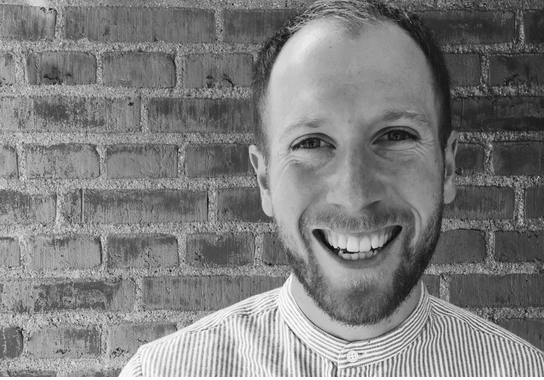 Andy Sontag is the Program Director for our professional programs, Become and Experience Design. Andy holds a degree in sustainability and entrepreneurship, and he has agency experience within organisational development work and experience design work in the United States and in Scandinavia. Andy works with talented producers and experience production teams globally to create the sought after Kaospilot learning experience.
Contact Andy here aso@kaospilot.dk
Price:
1200 Euro + VAT (If you are based in the EU)