Experience Design Professional In-House
Create meaningful and purposeful experiences that drive engagement with your end-users.
Program Overview
Experiences are everything. Tomorrow's consumer not only expects meaningful experiences on digital platforms, but also physical experiences with engagement and connection on a deeper level.
The rise of experience design is part of a bigger shift in society. The importance for designers to adapt to this shift is huge, and the market for their services even bigger.
Whether you are working with experience design in relation to end-users or employees, our holistic framework will enable you to create meaningful experiences with purpose that changes the way people think, feel and act.
The Kaospilot Experience Design program is a three-day training program where you and a group of likeminded peers enter a learning experience to learn, apply, and practice the foundations of experience design. The program provides you with the toolbox and the space to practice how to design meaningful experiences that create value, engagement and transformation.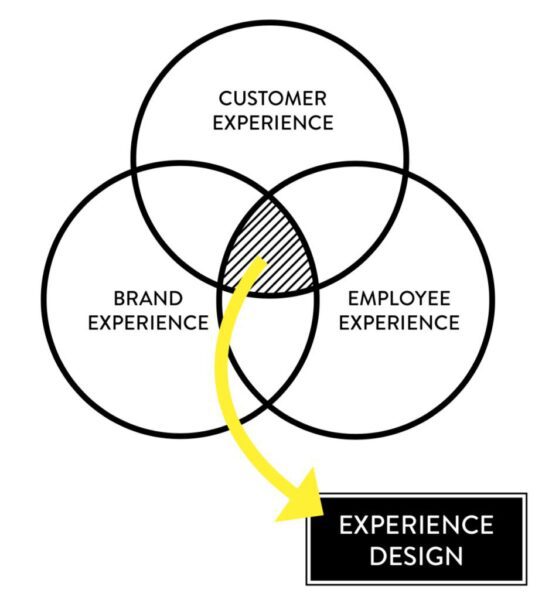 Content
During the program you will be working with real-world challenges that you bring to the course. The challenges will be solved using the KAOSPILOT Experience Design Model and the 5E Model. Theories are immediately translated into hands-on exercises to ensure practical understanding of everything you have learnt.
These subjects will be covered:
Meaningful Experience Design – Learn how to plan and execute experiences that engage your team and audience.
Purpose Driven Development – Learn to lead your teams to work faster and create more impact by using purpose as a guiding organizing principal in the experience you create.
Lean Design Approach – Learn to get tangible feedback fast, test your assumptions and make your experiences greater.
Engagement Strategies – Learn to consistently engage yourself, your team and your end-users in the experiences you design.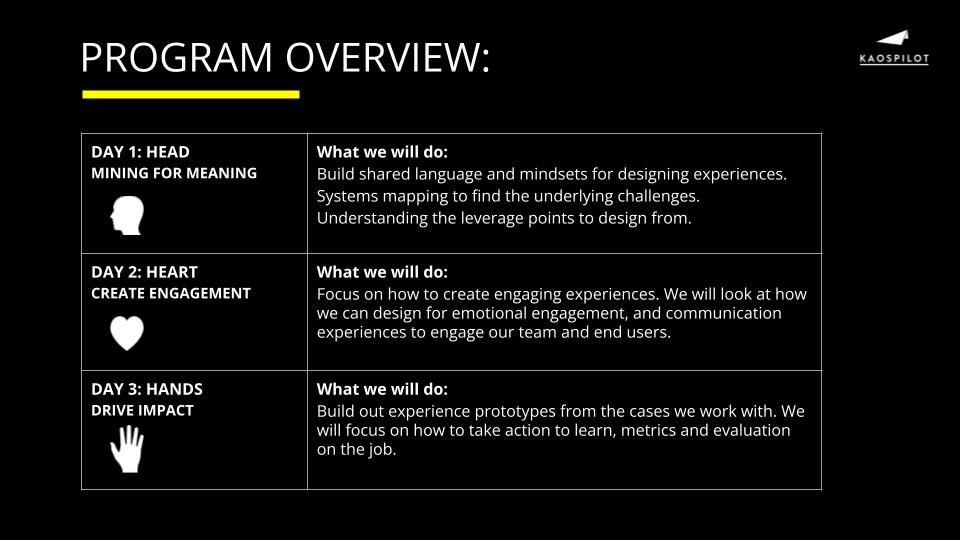 Is This for Us?
The Kaospilot Experience Design is for professionals who want to gain confidence in leading design processes. It is for those who dare to ask questions that are needed to create meaningful experiences.
This course is for you if you:
Are ready to explore how experience design can level up your offerings to customers and participants in workshops you lead.
Are in the process of transforming the experiences you offer to make them more meaningful, creative and engaging, and are seeking a modern methodology to do it better.
Are a consultant or change facilitator who want to develop professionally and harness the power of an experience design approach to create transformative learning experiences.
Learning Outcomes
You get a modern toolbox with facilitation methods and design mindsets to create engaging experiences and build relationships with your audience.
You learn why experience design is an effective tool to help you navigate through complexity with purpose and clarity, by focusing on the people your organisation serves.
You become a more confident and effective leader by learning the language of experience design.
Testimonials
"Engagement begins with emotions. If you want to learn how to create meaningful experiences, this course sets the direction. The learning process of the KAOSPILOT creates enormous power among the participants. You throw yourself into the unknown to land in deep reflection of what you learned from the exercise. […] In addition to useful and clear models, I had an experience for life."
– Torbjörn Briggert, Head of Strategy, Uncle Unicorn, November 2018
"The Kaospilot Experience Design workshop helped our teams gain a different perspective on what it means to design meaningful experiences. What is it that matters? How does it feel? What does it change? It was both inspirational and motivating."
– Patrick Schenck, Retail Innovation, Adidas
"The Kaospilot Experience Design course blows your mind, touches your heart and plays with you to transform the way you conceive experiences. You will get in touch with the human revolution in experiences. It changed my life!"
– Guilherme Ribeiro Paz, Business Consultant, 2018 Rio Brazil 
Approach
The unique KAOSPILOT approach is built around a rigorous training platform that dynamically combines practise, reflection and theory. You will be applying tools and theory, which you will learn about through practical exercises. Our approach enables you to acquire different mindsets to apply to your work. This includes experimentation, exploration and taking initiative.
At KAOSPILOT, we are specialized in creating diverse teams, which is why an important part of this program is working with people from different industries. All for the benefit of you gaining different perspectives from your peers.
The Kaospilot Experience Design program is a part of the Learn Experience Design movement, and strives to make our learning experiential. Our methods are biased towards action, interdisciplinary collaboration and focused on creating human outcomes.
FAQ
What is experience design?
Experience Design is the practice of developing experiences that grow people and relationships from the beginning to the end of a training, service or event.
Why is experience design important?
Experience is everything. What people experience can change the way they think, feel and act. As an experience designer you will be able to drive engagement for online and offline experiences. You will enable people and relationships to grow. You will become more confident and effective as a facilitator and leader.
How do I become an experience designer?
We have created the Kaospilot Experience Design methodology to help you learn experience design. Our methodology has 3 steps, and will teach you to create meaningful experiences that drive engagement with your customers or employees.
Practical information:
For further information, please contact Andy Sontag on aso@kaospilot.dk
Prices start from € 15.000 + VAT & travel expenses.
Minimum 10 / max. 24 per 2 facilitators.
The workshop can be tailored to fit your organization's specifics needs, purpose and strategy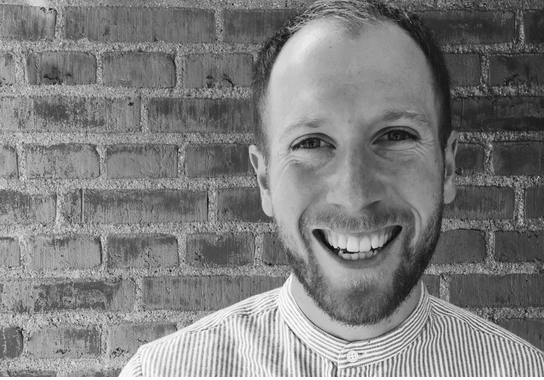 Andy Sontag is the Program Director for our professional programs, Become and Experience Design. Andy holds a degree in sustainability and entrepreneurship, and he has agency experience within organisational development work and experience design work in the United States and in Scandinavia. Andy works with talented producers and experience production teams globally to create the sought after Kaospilot learning experience.
€ 1.250,00 – € 12.500,00 Incl. VAT