Strategic Design and Complexity #2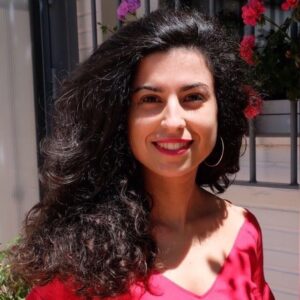 A conversation with

Magdalena Herrador



In 2022 Kaospilot and Elisava pioneered a new master program in Barcelona with Kaospilot Principal Christer Windeloev-Lidzelius as program director. Here Christer speaks with one of the pillars of the program,

Magdalena Herrador

, and her views on value of the program and its future.
Greetings Magdalena, just quickly for readers who may not know who you are – can you please tell us a bit about yourself?
For starters, I´m a rather small Spaniard, originally from the South of Spain and currently happily based in Barcelona, after spending some years out and about in other corners of Europe 😊 But I guess readers would mainly be interested in my professional background and current endeavours. I am one of those people with a wide range of interests who, in today´s still extremely specialized world, somehow ended up picking up a highly scientific/technical track (I worked for more than 6 years in the aerospace sector), even if I always had a calling as well for more social and humanistic fields. In the last years and after stumbling upon a good personal and professional crisis (this is how we millennials do it! 😉) I felt an urge to reinvent myself and transition to other fields, more aligned with my personal values, speaking more to "the problems that matter today" and allowing me to reconcile that wider range of interests which I mentioned before. I ended up landing in the world of Systems Thinking and Complexity, which absolutely blew my mind and which I nowadays blend with other tools and ideas from Sustainability & Regenerative streams, Entrepreneurship, Conscious Leadership, etc., in application to socioenvironmental challenges.
What has been your relation to the strategic design program that we have run this year?
I have been part of the faculty of lecturers, delivering parts of the program revolving around Systems Thinking and Complexity. Beyond that and most importantly, I have been constantly humbled by the sharpness and inquisitiveness of our students this year. Peer learning is I believe one of the pillars and strengths of our program, which, with such a fantastic cohort onboard, has reached its maximum expression. I have myself indeed learnt a lot from this experience, for which I am extremely grateful.
In your own words, what is strategic design all about?
You are asking THE question! Much is said nowadays about Strategic Design and however, there is, I believe, little consensus about what we all mean by this. Taking it rather from a Systems Thinking lens, I understand Strategic Design as the conscious process of, first, facilitating sense-making in a complex scenario (many interconnected elements and dimensions; plural views about that scenario – all of these subject to change over time) and, second, intervening in that reality in order to create the conditions for it to evolve into what we would perceive as a "more benign" one. This is indeed good fun as often times we can barely anticipate the full expression of that new reality which will emerge (and the new challenges it will bring along), so Strategic Design is more of an ongoing process, rather than a one-shot intervention.
What have been your takeaways from the experience with the program?
Many and very diverse, I would say. Just shooting a few here, in no particular order: the urgency to change our mental paradigms before necessary change can take place, the relevance of peer learning, the extreme power of a creative and committed group, the variety of disciplines which prove relevant to meaningful change which are available to us and the very good professionals and Communities of Practices established around them, the power of curiosity and of learning by exploring…Not forgetting about the convenience of late Friday sessions when surrounded by a group of students always glad to grab a beer after class! 😊
What make a program like this one unique and relevant would you say?
It is indeed relevant as it is conceived to respond to today´s greatest socioenvironmental challenges (as I mentioned before, "the problems that matter"), and so it´s reflected in the structure and themes explored in the program. It is unique as, still today, there is a lack of spaces, particularly in the academic realm, where these problems aren´t treated as externalities but becoming the center of the discussion. This program aims to turn highly committed and talented individuals into the leaders of today´s VUCA world and in so doing is running at the forefront of the regenerative shift which needs to urgently take place.
For whom would you say this program is a great match?
Simply put, this program is for you if you feel a calling for making an impact in today´s world and have an appetite for what would have traditionally be seen as less conventional disciplines (Strategic Design, Systems Thinking, Futures Thinking…), which are, as well as fascinating fields, already becoming the new mainstream.
Thank you!