Design for Change & Complexity
A 2 day workshop to embrace Complexity & Innovation through Chaordic Leadership for Sustainable Solutions & Strategies
Program Overview
Explore chaordic leadership for embracing complxiity and how to become leaders and HOSTS of a culture for adaptive change management to support holistic thinking and innovation through collaboration and strategic processes.
Complexity and uncertainty are on the rise across all sectors as we bridge many (extrinsic) challenges such as financing; higher state control, policy and assessment change; staff engagement & retention, industry, social and environmental pressures, increased pressure on administration and the growing complexity and diversity of the challenges they face.
For change management to súcceed, we must train and prepare a new breed of educational leaders, managers, program directors & administrators to understand complexity and navigate in uncertainty with the courage to let go of legacy processes & ways of working & thinking to explore and adapt new ways to lead, host, facilitate & manage for organisational and system wide change.
By fostering a culture for adaptive systems that blends chaos and order to advance cooperation for effective change management, this is the new competitive advantage for business development & growth. Complexity is highly disruptive to business ecosystems, but not necessarily detrimental as it can promote opportunities and challenges, which gives room for a more coorperative culture resulting in a more competitive edge, thereby giving rise to the Chaordic Leaders.

Content
the program delivers the 4 core disciplines for leading into the future:
Adaptive LEADERSHIP
High performance TEAMS & CULTURE
DecisiOn making in COMPLEXITY
STRATEGIC DEVELOPMENT for change
The course will aim to introduce and practice these conceprts and their relevance to your organizational development and to develop well-placed leaders & managers who can take on more responsibility and complexity sooner rather than later.
The primary methods we will explore are: Dee Hock's chaordic model & situational leadership; solving complex tasks through innovation & project processes & prototyping; Pre-jecting and creating team alliances; Drexler/Sibbet team perfomance model; Dave Snowden's complxity thinking – Cynefin model & the leader's framework for decision making; Daniel Goleman's social competence & leadership styles in action; the 4 player leadership model – leadership & responsibility for your actions; the future strategy compass; switch methodology & teal organization styles.
The workshop needs people who are open to explore and experiment and be inspired by new processes, mindsets, people, and perspectives to develop their role within their organization to become a better leader and collaborator through working and navigating within complexity and by adapting to change, innovation and experimentation.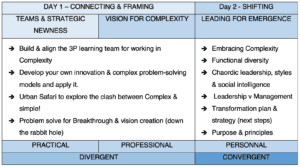 Learning Outcomes
New ideas and perspectives for 3P development, Professional, Practical & Personal.
Methods & tools to increase innovation, problem solving skills, team perfomance & collaboration for educational challenges & projects across departments & faculties.
Explore leadership styles, roles and emotional intelligence as part of leading for innovation and how to lead and stay in complexity.
Turn complex challenges into visions and change perspectives and proactive steps
Learn about chaordic leadership and how to navigate your (future) role as a team host, team member, instigator & problem solver.
Experience action-oriented collaboration to create capacity, inspiration and alignment within the organization.
Explore project leadership and how to support staff to deal with and reduce pressure through the art of pre-jecting.
Start a community of practice by creating a common reference, language, process, goals and methods to adapt and practice change.
Intro to strategic back-casting to plan and set steps and tasks towards a desired vision or changed state, inc. resources & team phases, milestones, ownership, communication, transparency, support & resources etc.
Is This for Us?
Fostering a culture of cross faculty adaptability and ownership that blends chaos and order to advance cooperation for effective change management can support a new competitive advantage for whole school collaboration & engagement for pedagogical, social and business development & growth. Complexity and change are highly disruptive to educational ecosystems, but not detrimental if they are used to give rather than to take energy and to inspire a new learning edge for the entire school. This creates space and opportunity for a more unified appreciative, cooperative, creative  team-based culture for strategic and systemic change.
You could be an academic leader or HR manager who wants to promote and create:
Processes and collaboration for solving complex tasks*)
Change-oriented organization and culture with self-driven people that are passionate about their work.
Innovation and productivity: Innovation is about finding new ways to approach and confront challenges. How to harness the mindset of innovation across a company.
Diversity & culture: bringing together various levels and skills to inspire the transformation of your organizational culture and processes.
Action learning: experience action-oriented collaboration as a way to create capacity, inspiration and alignment within the organization.
*) A complex task or challenge that is in a state of flux and unpredictability; No right answers; emergent instructive patterns; Unknown unknowns; Many competing ideas and solutions; A need for creative and innovative approaches to prototype and solve the problem. A complex system has the following characteristics:
It involves large numbers of interacting elements
Reactions are nonlinear, and minor changes may produce disproportionately major consequences.
The system is dynamic; the whole is greater than the sum of its parts, and solutions can't be imposed; rather they arise from the circumstances. this is frequently referred to as emergence.
The system has a history and the past is integrated with the present; the elements evolve with one another and with the environment; and evolution is irreversable.
Though a complex system may, in retrospect, appear to be ordered and predictable, hindsight does not lead to foresight because the external conditions and systems constantly change.

Testimonials
"For three years I have come to the Kaospilots with a group of students and alumni from Steinbeis School of Management and Innovation in Berlin, and it is always a great and inspiring time for all participants. The educational concept is vast; our students learn so many new and innovative concepts for leadership and solving complex tasks so much that I really can say that Kaospilot create new – and better – leaders. The Kaospilot are able to change the complete way to guide teams and teach how to create space for innovation and creativity in a company. We will definitely be back next year".

Raimund Bellinghausen – Program Director Steinbeis SMI
"Participants generally found this program very engaging and fun, enjoying the way of teaching and delivery. It emphasized the importance of creating space for collaborative innovations through creative thinking methods for implementing, where every team member takes an equally important role in contributing to its success."

Edmund Lee – Executive Director at Hong Kong Design Centre
"The course was facilitated in a calm, confident and experimental space. The facilitator empowered all the team members and they in turn empowered each other. Simon showed a great knowledge and passion about the topics in a very good variety of lecture and engagement. I left with the encouragement to try different things and understanding how I can break down barriers in myself and improve my team interaction."

IDK (Institute of Design Knowledge) empowering game changers (Hong Kong Design School)

Approach
The unique KAOSPILOT approach is built around a rigorous training platform that dynamically combines practise, reflection and theory. You will be applying tools and theory, which you will learn about through practical exercises. Our approach enables you to acquire different mindsets to apply to your work. This includes experimentation, exploration and taking initiative.
You will have the opportunity to create your own internal innovation process & method for working with and navigating change
Frequently Asked Questions
What is design facilitation?
Design facilitation is the process of designing a safe learning space from which you will be able to deliver your content to the learner in an engaging and inspiring manner and enabling them to reach their fullest potential.
What is the meaning of learning spaces?
The purpose of learning spaces is to create a safe space from which the educator can engage and inspire the learner and facilitate increased engagement, mindsets, attitudes and competencies.
What is experiential learning?
Experiential learning is an engaged learner-centred process with the purpose of giving greater autonomy and responsibility to the learner.
Practical Information
Cost: € 10,000 for the 2 days, ex. VAT

+ accomodation, travel, materials and expenses
This course is delivered as in-house only
Note: this two day course is only offered as a closed course within educational institutions, organizations or companies* where the participants should include multiple faculties, departments, managers and leaders. Or, at the Kaiospilot school in Aarhus.

there is a 50% price increase for for-profit organizations.
As an EU School you may be entitled to apply for Erasmus+, in particular E+ Grants, towards the course fee. Please contact your national agency for more information.
To sign up for this masterclass or explore alternative packages, please contact simonk@kaospilot.dk