Creating a "Kaospilot" inspired learning journey for a Danish boarding school (An exam-free 10th-grade).
How did this project come to life?
A boarding school came to us and asked for assistance in developing an exam-free 1-year learning program for 10th-grade students inspired by the Kaospilot 3-year education.
Post-COVID the leader and teachers of the school decided that the current societal challenges and state required the school to offer a program with a new pedagogical approach in order to better equip the students to face their own and society's challenges. The school, therefore, wanted to provide a new learning experience that could foster development and growth on the following three levels:
1. On a personal level give the opportunity for students to develop professional experience with real org. through practicing project leadership
2. On a school-wide level the students taking part in the program act as role models for strengthening the community and culture of the boarding school.
3. On a societal level that the program will enable the students through their projects to act on the things they wish to be different.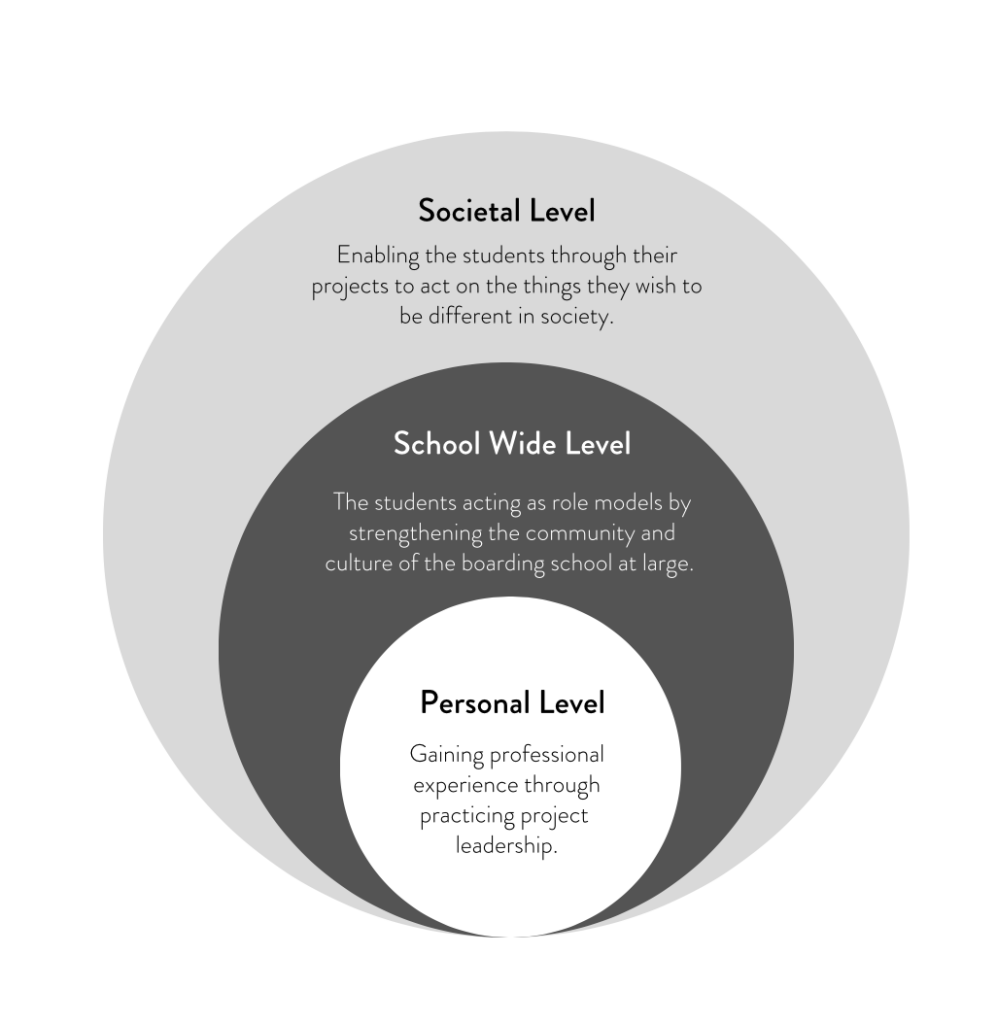 Some of the challenges this learning program was to tackle named by the students were:
The students wanted to let go of…
Sitting too much down and listening in school – because it is hard to remember what you learn, taboos and the fact that mental health issues are not outspoken, the knowledge of how bad the state of the world is without knowing how to act, the thought of having to fit into a box, dreams that do not get acted upon, the thought of having to be perfect, the system and the "rat race", my phone – it takes up too much time, a fixed mindset, let go of things that do not give energy.
On the contrary, the students had the desire to acquire the following skills, mindsets, knowledge, and attitudes:
Happiness, structure, people skills, IT skills, knowledge of one's own skills and abilities, learning from the past without being stuck in it, a stable and balanced mindset, life experience, a diverse background of knowledge, to look proudly at myself in the mirror and let go of what people think of me, trust myself more.
To cater to the needs and dreams of the students and leadership of the boarding school the new educational program will be built on the following 3 pillars of the Kaospilot curriculum:
Personal Development & Reflection 
Project leadership
Community Building & Co-creation
"The great challenge of the development of this learning program is to bring elements of our educational approach which has proved to work for adults with plenty of life experience to young adults in their teens instead, and I am learning from Kristian (the passionate teacher who made the development of this program come to life) along the way how we will go about doing this, and that is a super exciting journey!"
– Anna Elkjær, Project Leader
Read more about the program here:
https://www.adventure-efterskolen.dk/efterskoleliv/hverdagen/projektledelsesklassen/