Meet Frederik Svinth
Please introduce yourself (who are you and what do you do in your life)
My same s Frederik Svinth. I'm 35 and living in the countryside in Djursland with my family of five. I kinda enjoy hiding from the bigger world of networking and status.
At the Kaospilots I remember having a course, or maybe more of a workshop, by a guy named Neil Croft, about authentic leadership. Through the course we were challenged to create a life purpose sentence. My sentence became "I want to inspire fellowship through play" and today that has become my living. It is funny and a bit arrogant, that I, at the time or now, didn't think that I was reaching for the sky. It felt real. I ended my 3rd year at the Kaospilots creating a conversation game called SNAK, and I've been working on that ever since, while establishing myself as a public speaker. My main topics are Friendship, Loneliness and meaningful conversations. I do quite a lot of them these days, and since I started I've held more than 700, so I'm starting to feel like a pro 💪
I'm also a regular columnist in variety of different news papers.
The game that started as one game, has now become 24 conversations card games and board game called Come Together, that is being released in december 2022.
I enjoy my life in Djursland, I enjoy creating new relationships with people from that area, and I most of all enjoy that I'm my own boss, and that i get to spend time with my family.
I love reading, smoking my pipe, spending time with friends, bonfires and reading books.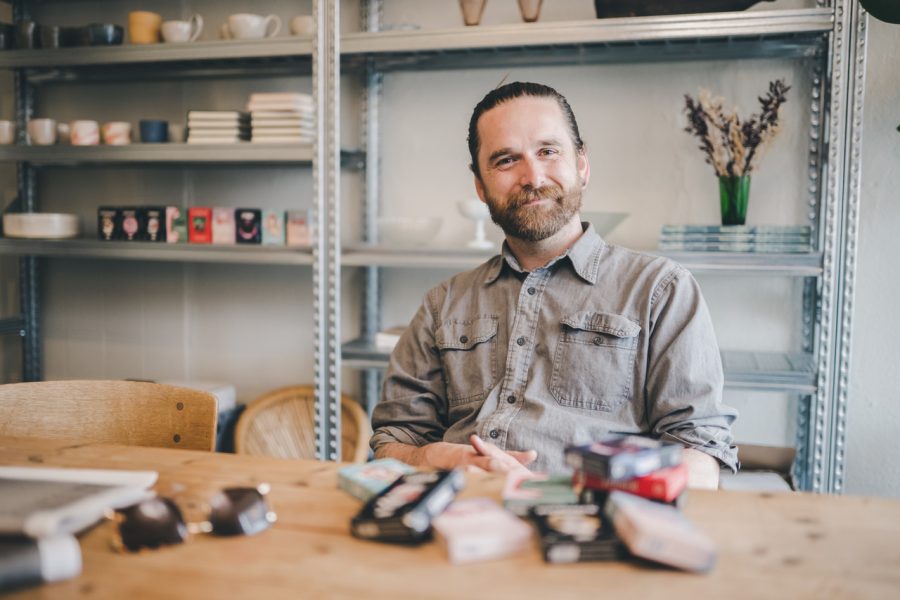 Which team and when did you graduate? 
I was a part of team 17, so I graduated in 2013. I released my first game in the beginning of my third year in 2012, and today (November 16th 2022) I am marking my 10th year anniversary.
Five days before I started the education, I lost 4 friends in a drowning accident. I felt like a shadow of myself for a long time after that. I Never really felt like I was connecting with my team. But meeting a lot of them at the recent Kaospilot anniversary, I did feel like I was home. It made me think that we do not always appreciate what we have, while it happens.
What have you been doing since you graduated as a Kaospilot?
The first 5-6 years after educating, I worked with a Kaospilot from team 1, Torsten Gejl, at the company he started before going into politics, called OCN. It was great to have the time to establish my own work on the side, and since then I have been working with my own company. Now i have two partners and a couple of employees.
What is important for you in your job?
It's important for me to have a sense of meaning. I know how quiche it sounds, but it is. Knowing that my talks are making people understand themselves and their relationships better, knowing that people are actually playing my games and hopefully creating a better understanding of each other and strengthening their relationships, makes it all worth while.
But it's also important for me, that my kids aren't being sacrificed on my journey towards meaning. I love that my style of work makes it possible, to pick them up early, and that I can keep them home even on a Tuesday.
What major learnings would you point out from your experience that have shaped you as a leader? 
At my studies at the Kaospilots, we were outposted in Bogota, Colombia. While being there, I had a couple of experiences that really shaped the leader in me.
Two of them have stuck with me.
One of them can be narrowed down to "learning through pain". I read a book by C.S. Lewis, where the core learning was that if we have to learn something it has to hurt. If there is no pain, then have we haven't really changed. This made me challenge the general idea that I felt was present at the school, where it had to be fun. This has been a great compass for my life, that pain is a necessary effect of change.
The other can be summed up to " Being a leader, means to lead". A lot of my peers where struggling while we were in Colombia, and in my perception, it was because all the groups working together, tried to work with a flat hierarchy whith no leader.
I was the leader of my project and I took it on me to bestow assignments on my group members, aligned with the effort they were willing to participate with. This experience taught me to really lead, to understand the weight and the responsibility of being a leade.
What is your biggest source for inspiration right now?
I grew up in a very religious, christian family, and have had a hard time finding my own path in that direction. But watching the movie "May Magdelena" with Juaquin Phoenix in the role of Jesus, kinnda made me settle. Not in a very religious way, or maybe it did. Watching his take on Jesus and the ways that he could step into that role, made me grow in a sense that the role model I grew up with became more real and more authentic. Something worth living up to.
What would would be an example of a learning or an experience from your time at Kaospilot that has been important to you?
While being at the school, two things struck me. First thing was that all the guests that we were presented to, always came with such passion for their work. Their way of teaching inspired me as a speaker, to bring my A-game, to be passionate about what I bring to the table in the same way they were.
Another thing I loved at the Kaospilots, was that the stupid Law Of Jante and thinking low of yourself, was never present. People believed in you, and you spent 3 years thinking, I can do this. This is maybe the biggest inspiration I took from the school. Before starting the education, I actually believed in myself, but after educating, but afterwards I had a feeling that others believed in me too.
What is a piece of advice that you would like to give future Kaospilot graduates? 
The best advice I can ever give a Kaospilot, is something you need to know before you start.
You should have direction before you start. If you have a sence of direction before you start, then you won't fall so hard, when the rug being pulled away underneeth you. You'll know what leg to stand on. If you are clueless of how to use the education before you start, you might feel the same way when it ends. It's of course not always true. I tried to get into the school three times! And I'm happy that I didn's get accepted until the third attempt, because when a was accepted, I felt so much more rooted. So the best advice, is to have a sence of direction before you start.